Social Action & Restoration
Social action and restoration works engage a wide range of individuals in an effort to commemorate victims of Nazi persecution.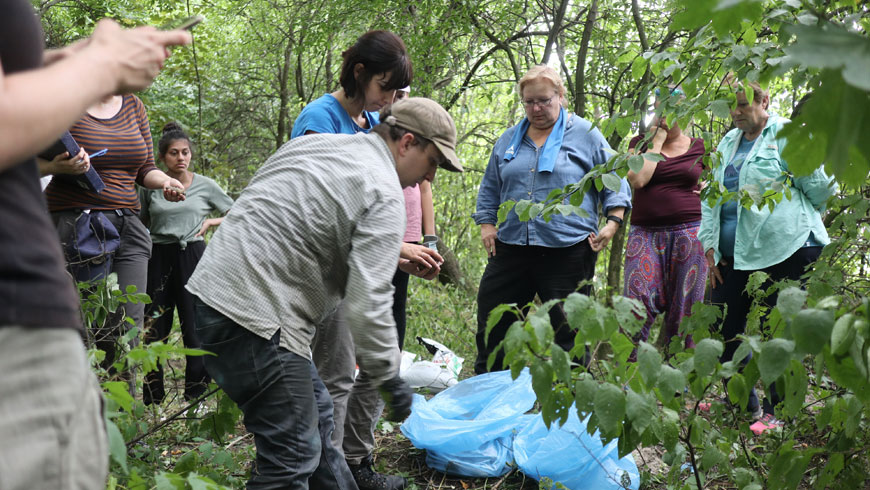 In order to identify, record and make visible the traces of Jewish cemeteries and the evidence of cultural and physical genocide they contain, the "Recording Cultural Genocide and Killing Sites in Jewish Cemeteries" project involved a series of social action projects.
This work took place at selected Jewish cemeteries where cultural and physical genocide occurred in the past, and where neglect and vandalism is occurring presently.
Participants had the opportunity to contribute to the state-of-the-art archaeological investigations, and to carry out clearing and restoration works. This interdisciplinary approach revealed new information about cultural destruction and killing sites within Jewish cemeteries, whilst also contributing to the restoration of the memory of the pre-war Jewish communities that the Nazis tried to erase.
Participants in the project were also encouraged to explore past and present examples of the destruction of cultural spaces and the people connected to them in order to reflect on the causes and consequences of these attitudes and actions.
They were asked to consider the impact of the continued neglect and vandalism of cultural centres. Through a series of partnerships, "social actions", sustainable tools and visits to Holocaust memorials and museums, the project aimed to provide a long-term platform for examining and tackling prejudice and for identifying its roots.
The project team engaged with politicians, NGOs, educators, students and a wide range of volunteers in order to broaden the reach of our work, raise greater awareness of the causes and consequences of cultural genocide, and ensure sites are protected in the future.
Find out more about our partners
Find out more about our social action projects in Oświęcim, Piaski and Wąwolnica.